ISPP REMINDER
April 2008
OUR NEXT MEETING . . .
. . . is at Lake Forest College
Tuesday
April 1, 2008
6:30 - 9:00 p.m.
A map and directions are enclosed.
THE FREE GIVEAWAY . . .
. . . something you should find useful to excite student interest in physics - and who knows? - maybe even your own!
FUTURE MEETINGS. . .
April 1 (Tuesday) Lake Forest College – Scott Schappe/Nathan Mueggenburg
April 4 – 5 Ilinois Section AAPT Urbana-Champaign
May 5 (Monday) Northwestern University – Art Schmidt
June 10 (Tuesday) Museum of Science and Industry- Ruth Goehmann
AT OUR LAST MEETING . . .
Mel Sabella (Chicago State University) greeted us in a new meeting room in their newly completed library building. We congratulated Debbie Lojkutz (Joliet West High School) upon her recent election to the post of president of ISAAPT. John Milton announced that John Baier will receive the Teacher of the Year Award at the Illinois Section of the AAPT meeting in Urbana-Champaign April 4 and 5. Tom Roose (Trinity Christian College) was a new teacher attending our meetings for the first time.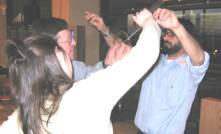 Mel passed out a sheet describing several experiments which he would walk us through involving addition of forces. He used three springs where the stretch of the spring could be used to determine the tension force on the spring. At first he arranged the springs so that two springs hung side by side each supported from above by a different hand. He linked the bottoms of the two springs and hung a third from that point. He hung a weight from the lower end of the third spring. And with both hands close together so that the whole array was along a vertical line he asked what the relative forces would be in all three springs. We guessed that the third spring would be stretched twice as far as the other two. Each upper spring need only apply half the force upward that the third spring pulled down with. F. Lee Slick assisted Mel and measured the spring lengths. It worked out pretty close to that answer.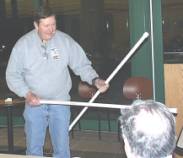 Next Mel spread his hands apart forming a 'y' pattern with the three springs such that the top two springs made and angle of 120o with each other. Each upper spring was 60o off vertical. Again he asked if we could determine the relative forces acting on each spring. With a little scribbling many of us deduced that all the springs would stretch the same amount. The upward components still had to add up to the tension force in the lower spring. A force whose component F/2 lies at an angle of 60o to the direction of the force would be that component divided by the cosine of 60o or divided by 1/2. The factors of 1/2 would cancel. Mel set up the springs at the proper angle while Lee made the measurement. Again things came out close to the expected result. This is a nice graphic example of addition of vectors. Lastly Mel hung three springs all in a vertical line. Each stretched the same amount. Neat.
F. Lee Slick (retired) produced two lengths of PVC pipe which weighed the same. Which one would you pick if you wanted to use them in a fight and why? We picked the one with the less moment of inertia. He gave them out ad we wiggled them to see which was easier to swing. One of us asked where we would be allowed to hold them. From the ends it was not easy feel which one was easier to wield. Then it was suggested that the one with greater moment of inertia my do more damage once you got it going. Lee suggested that it might be more important to hit first with the lower moment. Lee used dowel rods to space steel inserts. In one rod the steel was placed near the ends of the rod and in the other the steel was located close to the middle. Someone asked which would fall first if they were allowed to fall over starting with their bottoms resting on the floor ala falling chimney. Lee set them on end side by side and released them leaving them to clatter on the floor. Which one do you think would hit the ground first?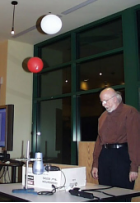 Art Schmidt (Northwestern University) recently bought a book " Ink Sandwiches, Electric Worms and 37 Other Experiments for Saturday Science by Neil A. Downie, (ISBN 0-80187410-6 The John Hopkins University Press in which he found a new twist to a familiar demonstration. We all have seen how you can float a ball on a stream of air from a leaf blower. The author demonstrates how to float five balls in the same air stream. He notes that different size and weight balls and ones differing in surface smoothness will all come to an equilibrium floating at different heights above the blower. He uses a hair drier (on cool) to provide an air stream. If one staggers the size of the balls from smaller to larger going up the stream the stream will flow around the balls with sufficient integrity to be able to levitate the balls above. Art demonstrated with a hair drier and four balls, a smooth ping-pong ball, a ping-pong ball coated with a conducting paint (a free giveaway from a previous meeting at DePaul), a small balloon (not completely filled) and a larger balloon. The fully inflated balloon rose almost to the ceiling. The smaller balloon settled in beneath the larger one. The smooth ping-pong ball lifted up only a few centimeters above the blower. He had thought that the coated ping-pong ball would have a rougher surface and float higher than the smooth ball. Owing to the greater force of friction of the stream on the roughened surface. It actually floated lower. We speculated that the weight of the coating was the overriding factor.
Art found another curious item in this book, a 'magamp'. The author described an experiment using a transformer as an A.C. amplifier pointing to the effort that was explored in the 1940's. The device uses the fact that an iron core solenoid can be driven into saturation using a D.C. bias. He admitted to not ever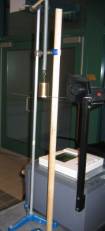 achieving a gain of power greater than unity. Art passed around the book. Thanks.
Jane Andrews (CARS University of Chicago) introduced herself as the Outreach Coordinator for the Center for Advanced Radiation Sources Based at Argonne National Lab at the advanced photon synchrotron x-ray source alert us to various resources available to us and to our students in the form of educational programs and internships for students. They have four sectors of research programs: chemistry, biology and macro molecular crystallography, ecological and environmental sciences and pharmaceutical research. She suggested having a meeting of ISPP at Argonne. They also have speakers who visit schools. She passed around her cards. She can be contacted at andrew@cars.uchicago.edu.
Joel Hofslund (Chicago State University) noticed that there were no labs on energy conservation in the curriculum. He started to design a lab and wanted us to see his efforts so far. In his many years of teaching he learned "Never assume that students know something that you didn't try hard to teach them Even if you try hard never assume that they learned it." He also felt that it was important to teach students conservation laws. He set up a vertical spring with a mass at the end. He used a Vernier Lab Pro unit attached to a motion detector to measure the location of the mass as a function of time. The spring had a spring constant of 50 N/m. The Lab Pro calculated a velocity from the data and Joel projected the velocity as a function of time on he wall. From that data he could obtain peak velocities He would like to show that the work done by the spring pulling up the mass compares with the kinetic energy gained as the mass rises while accounting for the gravitational potential energy gained. So far he has not gotten the numbers to work out. The available energy is three times the kinetic energy he measures. He has come to appreciate how hard energy conservation experiments are to do.
Ann Brandon (Joliet West High School retired) described an experiment they do using a ticker tape tied to the mass. Students pull the mass down and let it go with the timer making dots along the tape. They look for the largest spacing to find the maximum speed. She has gotten velocity to within 1%. The force of the spring is linear with distance. So they plot the force as a function of distance and the area under the curve represents the work done by the spring.

Larry Alofs (Chicago public Schools retired) set up a laser of a laser level aimed at a photovoltaic solar cell that he coupled to a Radio Shack audio amplifier and speaker. When he placed a microscope slide in the beam at right angles to the beam and rotated it with respect to the beam direction we heard a strange whistle sound like the sound from a needle scraping on a record or the flexing of a sheet of Aluminum that was used to create the sound of 'flubber' in the old Disney movie "The Absent-minded Professor" The pitch seemed to rise as the angle increased. He passed out a sheet with a description of the set up which he found in The Physics Teacher Dec 2007 by Chris Brown. Larry wondered what causes the sound. We deduced that the multiple reflections off the surfaces of the thin microscope slide caused interference resulting in variations in intensity that as they sweep by the solar cell give rise to the sound. A thicker glass plate didn't seem to work. By changing the angle he was changing the effective thickness that the light had to pass through resulting in a change in the spacing between interference fringes.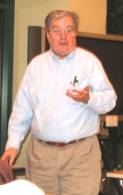 Roy Coleman (Morgan Park High School retired) paced around a Xerox of the cover of a catalog he received "X-treme geek" also found on the web at http://www.x-tremegeek.com. He pointed out one of the interesting items, game using mirrors and prisms to reflect laser light many times. Above this was an ad for RC model forklift that caught Roy's eye because it showed the lift raising a can of pop. The he read the "fine print" where it gave the lifting capacity of 3 oz., and noted that the pop can was empty. In honor of April 1st Roy shared with us an April Fool's announcement he had printed up about a new CPS Restroom Trip Policy.
Back in 1986 Roy made a flier announcing that gravity would be turned
off locally at a certain time due to construction issues in the building. The flier suggested ways to avoid injury during the outage. One suggestion was to have a string tied around ones wrist to facilitate pulling one back down off the ceiling. With the help of student accomplices he was able to do mischief. At the allotted time he had one student lie across the open doorway while two students not visible through the doorway lifted her up. The students in the room across the hall all put on their wrist ropes and pretended to feel gravity waning. This apparently sent the English teacher there into a panic having ignored the wrist rope warning. We laughed and sympathized with the poor teachers that taught in rooms near Roy's. I think there must be laws against this now?
Debbie Lojkutz (Joliet West High School) described the labs she does with D.C. circuits. Whereas most labs start with Ohm's Law they end with Ohm's Law. She passed out copies of the lab exercise sheets. They direct the student through a series of experiments to show what happens to resistances, voltages and currents in circuits when you add resistors in series. They assemble circuits using small resistors on breadboards. Thanks to Pete Insley (Columbia College) they have large supply of volt-ohm meters for the students. The labs take several weeks to get through.
Debbie explained that Kurt Jergens could attend but she had an exercise that led the students through a calculation of how much money it costs to run certain appliances. We wondered if they ever considered calculating how much energy replacing incandescent bulbs with CFL's saves.
Incidentally, our free give-away was boxes and boxes of resistors and capacitors which Roy got many years ago from his cousin in California who supplied components for Jobs and Wozniak to build the original Apple computers
Submitted by Arthur Schmidt
For any information regarding ISPP contact Gerry Lietz at DePaul University, Physics Department, 2219 N. Kenmore Chi. IL 60614 phone: 773-325-7333 e-mail glietz@depaul.edu. ISPP home page: http://condor.depaul.edu/~glietz/ispp/ispp.html
BRING FRIENDS BRING IDEAS! ! SEE YOU THERE! ! !
Debby Lojkutz/Eric Jergens Art Schmidt Ann Brandon
Kevin McCarron Pete Insley Paul Dolan/Joe Hemanek
Gerry Lietz/John Milton Ruth Goehmann Mike Kash
Tom Senior Earl Swallow Van Bistrow/ Dennis Gordon
Gordon Ramsey Roy Coleman Earl Zwicker
. . . . . . . . . . . . . . . . . . . . . . . . . . . . . . . . . . . . . . . . . . . . . . . . . . . . . . . . . . . . . . . . . . . . . . .
During 2007 - 08
Coordinators: Paul Dolan
Gerry Lietz
Earl Zwicker
ISPP Authors: Gerry Lietz Data Base Managers: Roy Coleman
Art Schmidt Earl Zwicker
John Milton
Pete Insley
Martha Lietz
Photographers: Paul Dolan Treasurers: Ann Brandon
Art Schmidt Peter Insley
Gerry Lietz
John Milton
Earl Zwicker
Special Events Committee:
Physics Day - Ann Brandon, Roy Coleman, (Co-Chairs)
John Rush Award - Ruth Goehmann, Gordon Ramsey, Nate Unterman, (chair), Bill Blunk (ex-officio)
Harald Jensen Award - Keith Bellof (chair), Martha Lietz, Ann Brandon
Annual Tri - Physics Meeting - Bruce Illingworth, Gerry Lietz
National Bridge Building Committee - Carlo Segre
New Member Committee – Kevin McCarron (coordinator), Ann Brandon, Pete Insley, John Milton
Directions to Lake Forest College
From Chicago — Take I-94 (Edens Expressway) north toward Waukegan. When I-94 splits off toward Milwaukee, stay on the Edens, which becomes U.S. Route 41. Exit at Deerpath Road, turn right (east) onto Deerpath and continue through the town of Lake Forest and toward the College.
From points North — Take I-94 south from Milwaukee. Just south of the Wisconsin-Illinois line, stay left and follow U.S. Route 41. Exit at Deerpath Road, turn left (east) onto Deerpath, and continue through the town of Lake Forest and toward the College.
From points West & Southwest (including O'Hare Airport) — Take I-294 (Tri-State Tollway), which becomes I-94, north to Illinois 60 (Town Line Road). Exit and turn right (east) on Route 60. Continue east to Route 43 (Waukegan Road), turn left (north) for 1/2 mile to Deerpath Road. Turn right (east) onto Deerpath and continue through the town of Lake Forest and toward the College.
The College — Once in Lake Forest on Deerpath Road, proceed east through the business district and across the railroad tracks. Deerpath winds through a residential area and the next stop sign is Sheridan Road. Turn right (south) onto Sheridan Road, go one block to College Road, and turn left (east) into the College through the stone pillars. Proceed to the Johnson Science Center.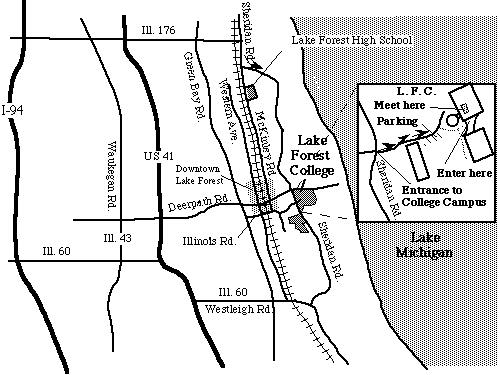 John Rush Award Recipients
1983

Jim Williams

1992

Tom Senior

2000

Nick Drozdoff

1984

Chris Chiaverina

1993

Jim Szeszol

2001

Bailey Donnally

1985

Earl Zwicker

1994

Ann Brandon

2002

Martha Lietz

1986

John Milton

1995

Roy Coleman

2003

Eileen Wilde

1987

Gerry Lietz

1996

Pete Insley

2004

Debbie Lojkutz

1988

Steve Luzader

1997

Bill Conway

2005

Nate Unterman

1989

Bill Blunk

1998

Bill Shanks

2006

Gordon Ramsey

1990

Larry Alofs

1999

Paul Dolan

2007

Ruth Goehmann

1991

Art Schmidt