September 2011
Dear Friends & Colleagues,
In case you haven't noticed, it's just about that time of year once again. Time to start looking over the lesson plans, dust off the books and tune up the lecture demo's. The academic year is almost upon us. Time to start thinking again about new and interesting ways to get your students excited about physics. But what can you do? You need resources! You need ideas. Where can you find it all?? ISPP!! Perhaps you already have the ideas. Perhaps you've attended a summer workshop. You're excited about it. What now? Share them with ISPP!!
OUR FIRST MEETING OF THE 2007 - 08 SEASON . . . OUR NEXT MEETING . . .
. . . is at New Trier High School
Thursday
September 22, 2011
6:30 - 9:00 p.m.
A map and directions are enclosed.
THE FREE GIVEAWAY . . .
. . . something you should find useful to excite student interest in physics - and who knows? - maybe even your own!
FUTURE MEETINGS. . .
September 22 (Thursday) New Trier High School – Nick Drozdoff
October Joliet West – Debbie Lojkutz
October 27-29 (Thu– Sat) CSAAPT/ISAAPT/ISTA/IACT Joint Meeting
Tinley Park Convention Center
November 10-12 (Thu-Sat) PSAPS Meeting - U. Northern Iowa
December 6 (Tuesday) DePaul University - John Milton/Eric Landahl
January 18 (Wednesday) Elmhurst College - Mark Timko/Earl Swallow
AT OUR LAST MEETING . . .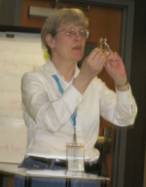 Ruth Goehman (Museum of Science and Industry) greeted us and called the meeting to order and presented a phenomenon to start the meeting. She presented an unusual game, tic-tac-toe in 3-D. Pete Insley (Columbia College) accepted the challenge to play her a game. Someone asked if you could show it on the overhead projector. Pete wondered if the 3-D version had a similar strategy to the 2-D version. Ruth explained that this toy encouraged students to think in 3-D. Ruth showed us her free give-away, a "shackle" puzzle of interlocking wire pieces that seem to be permanently locked together. She manipulated the pieces and separated them. She handed out an answer key separately.
Gordon Ramsey (Loyola University) reminded us of the CSAAPT/ISAAPT/ISTA/IACT Super-Joint Meeting this October 27 – 29 to be held at the Tinley Park Convention Center off Harlem Ave. Take I 80 to the Harlem exit, and go north to the Holiday Inn and Convention Center. Gordon promised tons of restaurants to choose from.
Pete Insley (Columbia College) had discovered an interesting phenomenon as a result of constructing a compass with a set of ring magnets that he had purchased on line from Educational Innovations at their on-line site teachersource.com (50 magnets for #32). He sandwiched three magnets together, and hung group by its rim and passed a pencil through the hole. He rolled paper around the pencil, increasing the diameter to make the pencil fit snuggly in the hole in the magnets. They had north and south poles along the axis of the rings, so that the magnet and the pencil suspended horizontally, acted as a compass that pointed north-south. Ann Brandon verified that it was pointing correctly.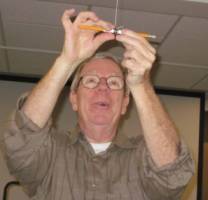 Pete displaced the pencil by twisting it away from its equilibrium position in the horizontal plane and released it. The compass oscillated with a certain period. Pete took the pencil out of the hole and showed that without the large inertia of the pencil the magnets still oscillated around an equilibrium position, but they oscillated much faster.
With the pencil in place, Peter measured the period of the oscillating compass as a function of the number of magnets he had included in the sandwich, from one to three magnets and amazingly it turned out to be nearly exactly an inverse square relation. Pete challenged us to figure out why this would happen.
Kevin McCarron (Oak Park/River Forest High School) suggested shifting the pencil in the hole, to making the eraser end heavier. The pencil tilted down from the level at the heavier end. Would that have an effect on the period and change the results? Lots of good questions followed. We were reminded to be aware of the fact that steel desks that have not been moved in years or steel doorframes have become permanently over the years.
Art Schmidt (Northwestern University) showed us a simple but popular demonstration among the professors at Northwestern University involving a liquid crystal. The teacher would place a hand on a wood board while introducing the idea of energy. As Art showed us, he would place the Liquid Crystal sheet over the place where he had pressed his hand and the sheet would turn a different color revealing a handprint where the heat of his hand had raised the temperature of the wood.
The demonstrator would then drop a weight on the wood plank and use the Liquid Crystal to reveal a hot spot on the wood where the weight had impacted. The point was that the kinetic energy of the weight before striking the wood was not lost when the weight come to rest, but was merely transformed into heat energy, thus reinforcing the concept of energy conservation.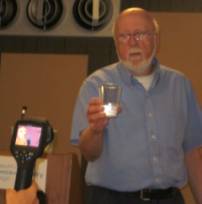 Art lamented that, as simple as the demo was, it was also somewhat undependable and very sensitive to the ambient temperature of the room. One had to have selected the sheet with the right transition temperature. The appropriate sheet to use might change with the time during the class when the demo was used. It might work great just before class and then right at the end of class when one finally got to it, it would fail embarrassingly.
Last year a professor asked Art to purchase a thermal imaging camera (3 K the prof provided and according to Kevin McCarron as cheap as $1800) as a demo of applications of different wavelengths of light for his Astronomy class. Art pointed the camera at Pete Insley. His eyeglasses appeared to be opaque. Art viewed two glasses in the camera view, that he had previously filled with water, one hot and one cold. It was easy to distinguish the glass that container the hot water. Art found this to be a most reliable addition to the kinetic energy demo as well. He dropped a weight on the board as before and pointed the IR camera toward the board, An unmistakable bright spot appeared in the place right where the weigh had impacted.
Art walked us through some other ironies of Infrared. He pointed the camera to view a clear plastic glass, at least as seen in the visible range. In the IR the glass was opaque and Art demonstrated this by passing two fingers behind the glass where they could not be seen through the plastic. He unfolded a black plastic trash bag and draped it over his hand hiding it from our view in the visible range. When he aimed the IR camera at the bag, his hand was quite visible under the plastic.
Art told us about a new effort that was happening at Northwestern in the undergraduate labs. He is redesigning the labs for the more advanced students. Rather that having them attend a two-hour session where they perform a fixed set of exercises, Art wants to give them some advanced equipment and go do some unique experiments. He had purchased a few high-speed cameras that the students could use to take videos of rare events and analyze the motion with computer video software. He will be using Vernier's Logger Pro which has that capability. He was looking for suggestion for interesting problems for the students to tackle. Any ideas?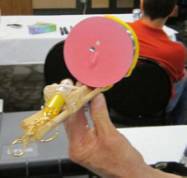 Anne Brandon (Joliet West retired) presented John Milton (DePaul University) with a beautiful finished wood standard decade resistance box which she had recovered from IIT's physics lab when they were cleaning out,. It bore the inscription "To Fr. John Milton: in appreciation for your years of service to ISPP and showing that physics is phenomenalogically phun. June 7,2011" John promised that it will not sit idle. In his retirement year he has been going up to St. Martin De Porres High School in Waukegan once a week. He will make it available to those students to learn about resistance.
Kevin Mc Carron (Oak Park/River Forest High School) held up a black square of cardboard on which he mounted five LED's with a range of different colors from the spectrum, from red to blue He mounted them in a vertical line. He passed out a variety of spectrometers for us to observe the spectra. Stanford 5 kids take cellophonre pictures of different light to share among their friends. When we look at the array through a diffraction grating the colors were displaced horizontally as well as vertically. Art Schmidt asked if anyone had seen the new grating available from Rainbow Symphony, Inc. www.rainbowsymphony.com. These have a spacing of 1000 lines per mm, twice as fine as the usual 500 lines per mm
Andy Morrison (DePaul University) presented a neat device he received as a give-way from a previous meeting. A small mirror segment was glued to a rubber membrane that was then stretched over the open end of a tin can which had both the top and bottom removed. A laser pointer was aimed at the mirror and bounced off the mirror to shine on the wall. . Andy spoke into the other side, which was open to the air and caused the membrane to vibrate. This caused the reflected laser beam to sweep into a 2-D pattern like a Lissajous figure when Andy intoned the right pitch.
Paul Dolan (Northeastern Illinois University) held up his hand with his fingers showing a "v" sign. He claimed that this was typically nearly 30 degrees. Andy Morrison observed that a fist held at arms length subtends about ten degrees and nine fists one atop the other brings one through a 90 degree angle.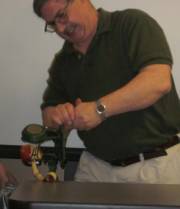 Then it was time for the annual John Rush Award. Ann Brandon (Joliet West retired) explained the history of the award. The John Rush award is given to one of our members for exciting ideas and 'phun' contributions to the group. John taught for many years at Eisenhower High School in Blue Island, and coined the word 'pneumenon', a new phenomena that you haven't experienced. On the first day of class John would show his students a strange contraption and challenged them to discover what it was. Then Ann announced this year's winner. Kevin Mc Carron (Oak Park/River Forest High School) came up to receive the award and clamped the 'pneumenon' to the table to peel the traditional apple. Submitted by Arthur Schmidt
For any information regarding ISPP see our web page at http://www.ispp.info
Directions to New Trier High School
FROM THE NORTH:
Take I-94. Tower Rd., East on Tower Rd. to Green Bay Rd., South on Green Bay Rd. to Winnetka Rd., East on Winnetka Rd.to NTHS Campus.
Or..
Take Waukegan Rd. or Green Bay Rd. to Willow Rd., East on Willow Rd. to Green Bay Rd., South on Green Bay Rd. to Winnetka Rd., East on Winnetka Rd.to NTHS Campus.
FROM THE SOUTH:
Take Waukegan Rd., I-94-Edens Expressway, or Green Bay Rd. to Lake St., East on Lake St. to Green Bay Ave. Turn North on Green Bay Ave. to Winnetka Rd. East on Winnetka Rd. to NTHS Campus.
FROM THE TOLLWAY
Don't do it…but if you must …Exit at Dempster, East on Dempster to I-94-Edens Expressway , North on I-94 to Lake St., East on Lake St. to Green Bay Ave. Turn North on Green Bay Ave. to Winnetka Rd. East on Winnetka Rd. to NTHS Campus.